A variety bill with a thrilling top-liner is the Palace attraction this week.
Attilla, a handcuffed expert, adds a spice of danger to his act by releasing himself while submerged in 70 gallons of water. First he is handcuffed, then locked in a rubber mail filled with water, after which, to offer him another chance of a watery grave, the bag is placed in a tank of water.
Here there are sensations enough to satisfy anybody, while those who think lightly of his turn have the opportunity of emulating him and winning a substantial prize.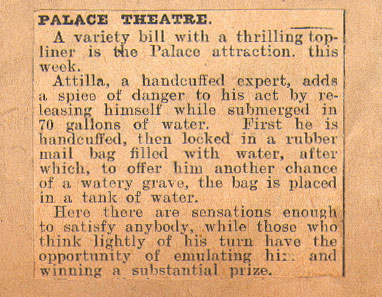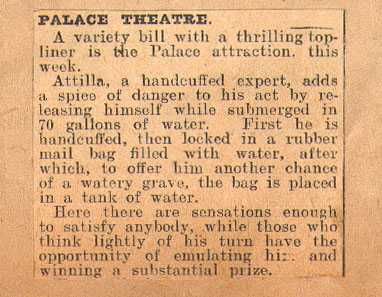 Challenge Accepted
ATTILLA, the handcuff expert whose sensational act is creating quite a stir at the Palace Theatre, has issued a challenge of £100 to anyone who can repeat his act. In addition there is a competition with a prize for a smaller amount for those who can remain in Attilla's tank for the longest period.
Last evening a Bradford man, Leon Slater, of Shearbridge Road, succeeded in remaining in the tank for three minutes-not completely submerged, of course, but when he came out it was discovered that he had also released himself from the handcuffs.
Slater has now accepted the £100 challenge, and during the first house on Friday evening he will be placed in a bag and then in the tank, exactly as Attilla is,  and he is hoping to succeed in winning the £100.